PLACES TO VISIT
In and Around Mangalore :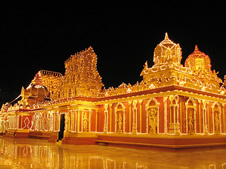 Kadri Manjunatha Temple : Situated on the hills of Kadri, the temple of Manjunateshwara is a very popular place of worship in Mangalore.
Mangala Devi Temple : Mangalore owes its name to the temple of Mangala Devi. Various Pujas and rituals are performed by Vedic Brahmins on a regular basis. During Navarathri (Dasara) special Pujas are performed on all the nine days.
Shri Sharavu Mahaganapathi Temple : The historic Shri Mahaganapathi Temple has an illustrious history of a staggering 800 years.
Kudroli Gokarnath Temple : This beautiful temple is the abode of Lord Gokarnatha, another name for Lord Shiva. (inset picture)
Sultan Battery : Sultan Battery is famous for the watch tower constructed by Tipu Sultan. The Water Sports and Adventure Centre is situated adjacent to Sultan Battery. This adventure centre indulges in aquatic activities like canoeing, kayaking, wind surfing, speed boat rides, banana boat rides and bumper tubes.
Nearby Attractions :
Dharmastala (92 Kms) :On the bank of the River Nethravathi, the Holy Place Dharmasthala is situated. This town is a unique example of communal harmony, famous for its Shri Manjunatha Temple.
Subramanya (120 kms) : A well-famed temple, inside the dense forest bordering the Western Ghats, is Subramanya. The original name was Kukke as "Kukke" or a basket by the priest of the temple had covered the Kukkelinga. Now this linga is inside the inner courtyard of the Subramanya Temple.

Kollur (120 kms) : The Mookambika Temple at Kollur attracts thousands of devotees.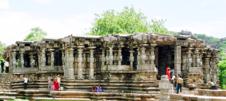 Kateel (27 kms) : It has a famous temple dedicated to Goddess Shree Durga Parameshwari, the loving and caring mother of the people of South Kanara.

Polali (48 Kms) : An ancient Temple dedicated to the Goddess Shree Rajarajeshwari is situated, with an image of 12ft height, worshiped with the idols of Badra Kali, Shanmuga with Ganapathi, on either side.

Udupi (40 Kms) : This town has the famous Krishna Temple with the Golden Chariot.

Moodabidri (50 Kms) : Moodabidri is famous for its 1000 Pillar Jain Shrine. (inset picture)

Also visit Facilities | Services | Tariff